Articles / News
More Info
Subscribe
Stainless Steel Cleaning Photo Gallery
Photo Albums
:
All Photos
|
Aluminium cleaning
|
Corrosion
|
Dry Ice Blasting
|
Shopping malls
|
Stainless Steel Cleaning
|
Swimming pools
|
Brewery Equipment


Tanks and pipework can be maintained by regular use of products from our range of specialised chemicals.

Elmer Wallace can assist in the development of cleaning procedures which ensure a long corrosion free life for all Stainless Steel parts.



Stainless Steel Sculptures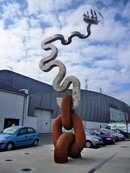 We were asked to advise on the maintenance of a number of sculptures which have been on site for a few years. The locations varied from coastal to town centres.

Treatment with Antox 75E & Mainclean were recommended to restore the original finish.

Denis 0'Connor the artist involved has a variety of work which can be viewed on his website: www.sculptureworks.org.uk




The Kelpies


Elmer Wallace Ltd supplied the technical advice and chemicals required for the final clean of the Stainless Steel for this iconic pair of statues.



i360 Brighton


We supplied our Pick & Clean product to this project to clean the Stainless Steel on site



Floating Platform Offshore (FPSO)


We were asked to advise on methods of cleaning contamination on an operating off shore platform. Working with the offshore engineers, Health & Safety and supply company a procedure was agreed that would satisfy all requirements. We supplied all the chemicals to complete the job in a very short time frame.