Articles / News
More Info
Subscribe
Ferroxyl Test for Free Iron
posted on 30 March 2018 | posted in Stainless steel

---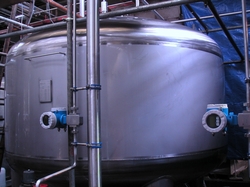 We have introduced a new kit for the
Ferroxyl Test
for Free Iron, outlined in ASTM A380-06, section 7.3.4 & A967-05 Practice E.
It is a very highly sensitive & hazardous test and should be used only when traces of free iron or iron oxide is "objectionable". Personnel familiar with its limitations and hazards should only be permitted to use this test method.

It consists of two solutions, A & B, which contain nitric acid and potassium ferricyanide. The potassium ferricyanide can emit lethal fumes if it is exposed to concentrated acids, or heated to decomposition. The solutions are combined before use as the mixture has an active shelf-life of approximately 24 hours.

A filter paper is soaked with equal amounts of each solution and applied to the surface. The paper turns dark blue within 15 seconds when iron is present.

It is not recommended for use on products destined for use in food, medical or pharmaceutical unless complete removal of the cyanide solution can be guaranteed.
An alternative is our Copper Sulphate or Passivity test kit which will give a red/pink result when in contact with Iron. The chemicals used in these tests are not hazardous.
Carbon steel can cause contamination of the stainless steel even if airborne particles come into contact with the passive layer of chromium oxide. Very few fabricators have the capability to fabricate in a clean room environment. There are many ways to remove free iron and free iron oxides by using for example, Antox 75E ( a phosphoric acid solution) or EWP 51 (Citric acid).
A ferroxyl test is a test done only to "detect" contamination. Once contamination is detected, then a removal procedure is carried out.